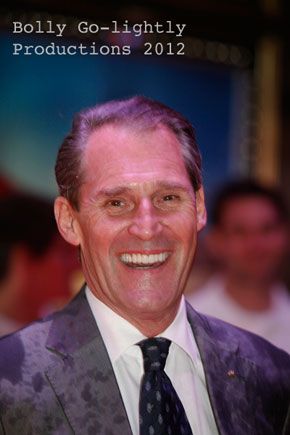 CHARIOTS OF FIRE REMASTERED PREMIERE - THE EMPIRE, LEICESTER SQUARE
This 1981 oscar winning film has been digitally remastered and the premiere took place on 4/7/2011. It remains today to be one of the best sporting themed films in cinematic history. The VANGELIS sound tracked beach running scene even got a MR BEAN/SIMON RATTLE homage in the OLYMPIC OPENING CEREMONY ( more later ).

BEN CROSS ( who played HAROLD ABRAHAMS ), ALICE KRIGE and the ever suave NIGEL HAVERS attended with DAME KELLY HOLMES as the black clouded sky deluged arrivals scurrying along a sodden red carpet to a dry haven.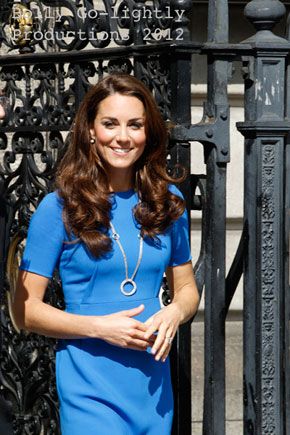 BT ROAD TO 2012 - "AIMING HIGH"
All regular HG readers will know that the "Road" to the start of the OLYMPIC GAMES has been a very long and winding one. With a week to go, there was still much to cover. This press review was one of the three events that I liked the most.

THE DUCHESS OF CAMBRIDGE is a patron for THE NATIONAL PORTRAIT GALLERY. Their latest OLYMPIC photographic exhibition was opened by the modern royal in the morning. The exhibition consists of images which convey a comprehensive representation of various people involved in The GAMES, from architects, chef's, competitors, BORIS and so on.

I liked the free exhibition, as it contained some great photography from a unique perspective. Recommended to visit before 23/9/2012.





THE OLYMPIC JOURNEY: THE STORY OF THE GAMES
The final pre-OLYMPIC exhibition was at THE ROYAL OPERA HOUSE.
BP sponsored a great exhibition on the history of the OLYMPIC GAMES and a collection of special presentations on historic iconic competitors ( including SIR STEVE REDGRAVE and DAME KELLY HOLMES ). In addition, it contained a collection of every single one of all the SUMMER OLYMPIC MEDALS from every one of the modern game era ( since 1896 ). You will note that the 2012 medals were the biggest and the heaviest of all.

The main interest for the launch was to photograph my childhood OLYMPIC icon and first memory of the SUMMER OLYMPIC experience: OLGA KORBUT. To meet her in real life was quite surreal as I vividly recall her winning her gold medals as a little girl when I watched The Games with my family. Her smile and cheeky face endeared a generation to her and created immense interest in the discipline of gymnastics.

A girl in my school class called KAREN ROBB was inspired to take up gymnastics ( I was rubbish in the gym ). When I knew her she practised beam exercises along the edge of her bed. Karen went on to became part of the TEAM GB Olympic athletics team competing against the great NELLI KIM in 1978 at Montreal. The press called her the BRITISH KORBUT as she had the same build, blonde hair and cheeky grin. Wonder where she is now.

OLGA may be 57 and this was the 40th year since the MUNICH OLYMPICS that I watched as a little girl, but her effervescent character and body suppleness have not waned. Like MO FARAH, I couldn't resist asking for a signature I am afraid. In many ways she seems like the smiling child in a older woman's muscular frame.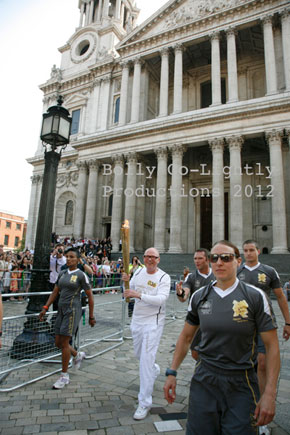 THE OLYMPIC TORCH AT ST.PAUL'S CATHEDRAL
After travelling across the whole of the country the relay finally came to The Big Smoke. The torch relay has embraced and been applauded by the population of our country. Iconic landmarks, a live TV programme, urban sprawl, cities, coastlines, rolling countryside and mountains have all been touched by the wave of pride and sporting promise. I was not one of the fortunate chosen few who got to cover the whole amazing journey, but I did sample a lingering morsel of it when the military precision of this spectacle met one of our greatest London symbols against adversity and challenges: ST PAUL'S CATHEDRAL.

The atmosphere was full of anticipation for an early week day morning. Not only was it an expected patriotic affair, but a homage to the carefully selected torch bearers from all walks of life. What made it for me was the subtle mix of timetable security and fun. Yes, the torch arrived pretty much on time to rapturous applause, but the deliriously cheeky skip up the cathedral steps to meet the receiving torch bearer was priceless. In retrospect of seeing a large chunk of the sporting history that followed this summer, this moment encapsulated the public embrace to what is the greatest show on earth.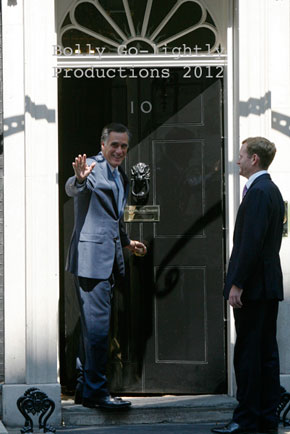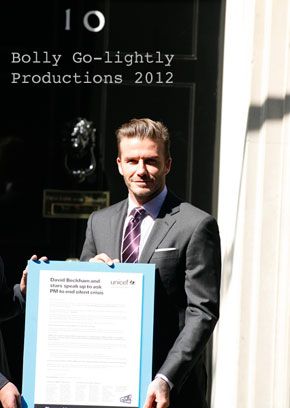 MITT ROMNEY AND DAVID BECKHAM IN DOWNING STREET
Going to DOWNING STREET is always a "pack your sandwiches" type of job.
Once you get past security, it is similar to going fishing along the riverbank...just opposite the most famous front door in the world!

The big fish of the day, were a global icon and an American who wants to become the most powerful man on the planet.

I have done quite a few of these events, and I have to say that I have never known anyone spend so much time between no 10 and 11.
MITT ROMNEY is a big man in terms of stature and amassed fortune, but due to his early week OLYMPIC gaff, this visit was no longer just about greasing powerful palms on an international tour of meeting the leaders. It was also about trying to gracefully back paddle from his criticism of how we were about to run our own Games.

As you can imagine, American TV had a strong presence in our midst. Newscasters from across "the pond" are slicker, more tanned and apply their own make up constantly....and that's just the men.

Conveniently, DAVID CAMERON was at THE OLYMPIC PARK all day to hold the final press conferences 24 hours before the OPENING CEREMONY.
So, the best that MITT ROMNEY could do was see both GEORGE OSBORNE ( still never seen him smile ) and NICK CLEGG.

Saving the Atlanta Games didn't seem to hold much substance when criticising us on our home soil. All the British photographers found the "middle of the street" press conference lacking in substance. I think GEORGE OSBORNE's well fed cat attracted more interest...but not as much as the then arrival of DAVID BECKHAM.

Although DAVID BECKHAM is a slight man, in terms of kudos and respect, I think he wins hands down. Little did I know what a memorable contribution he would make to the OLYMPIC OPENING CEREMONY, the day after handing this petition into no 10.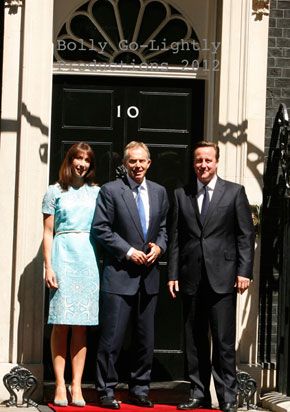 THE QUEEN, PRINCE PHILLIP AND HISTORIC PRIME MINISTERS IN DOWNING STREET
Earlier in the week I had covered a far more interesting lunchtime event which was to take place behind the famous black door, numbered 10.

It has become something of a tradition for the Prime Minster and his spouse to invite past leaders of our country along with our monarch and her long serving spouse to luncheon. This has to be the stereotypical lunch of nightmares to all of us: a lunch we would never dream of organising unless it was a mandatory work event or the Christmas/Boxing day get together of a family in crisis.

To epitomise this uncomfortable situation, the arrival and departure times of some of these guests were kept apart to avoid embarrassing handshakes in front of our camera lenses. DAVID AND SAMANTHA CAMERON greeted the individual arrivals of TONY BLAIR and GORDON AND SARAH BROWN the same way. JOHN and NORMA MAJOR, as fellow conservatives did get what seemed like a more genuine greeting.

For us, it was a lighting nightmare, as the sun projects its rays in a harsh way on what is a pretty cold street due to the height of enveloping buildings.
To flash or not to flash was not the question...we all agreed after test that it made no difference to what would sadly be a patchy set of images. Visitors would either be covered in shade or "burnt out" due to the sun's glare. The royal arrival of THE QUEEN AND PRINCE PHILLIP sadly represented this issue to a tee. THE QUEEN became a royal mirage, whilst her husband became a dark shadow of himself on the very same doorstep.

Whilst we tried to edit in some balance to the proceedings, the brief luncheon took place. I would love to have been a fly on the wall to this one. Who sat next to who? Would they all be sitting in a corner with the laughing Duke chastising them into passing the salt to the enemy. "Gordon, can you pass the poison.. er I mean ketchup to Tony?".


LONDON 2012 - THE OPENING CEREMONY FROM MY TV
What an amazing summer.
As I write this reflection with cat snoozing on my knees, it seems like a very long time ago now. I have to say that the whole experience was amazing and made us all proud to be British, let alone adopted Londoners.

It was the party to end all parties, with a quick rest bite between two historic "feel good" events.

I don't think that I have ever felt so proud to be British. Such a contrast to the embarrassing Double Decker bus in the Beijing Stadium handover. Boris madly waving an Olympic flag did not instill any confidence that this ultimate global show could seamlessly work in our capital. I was going to hide under the sofa and deny my heritage to strangers in the street if we didn't pull this off. How wrong I was. Prior to the games, like others, I really felt that our transport system would fall apart from the strain...that security would be heavy handed and some dreadful terrorist attack might happen.

Our Games surpassed the grand scale opening show of Beijing, with DANNY BOYLE's show encompassing British quirkiness and our passion for all things historic. Whilst the pride, international camaraderie and achievements completely erased my affection of the Sydney Games as being the best that I could personally remember.

I cannot recall any tube journeys where people smiled and openly talked to fellow travellers. If anything could be bottled for Londoners in their daily lives, this one experience should be it. It would fly off the shelves.

I loved the opening ceremony. There weren't many surprises as I had already seen press images whilst passing the time in DOWNING STREET on the MITT ROMNEY/DAVID BECKHAM job. However, seeing JAMES BOND ascending the Grand Staircase as I had in my previous column was fantastic. I never knew HER MAJESTY could act...her timing was impeccable at ensuring that one of her most iconic, impatient adrenaline filled servants had to wait. Sadly, I hear that one of the filmed Corgis, 13 year old Monty ( after the famous horse whisperer MONTY ROBERTS ) has since passed away.

The other parts of the ceremony that were a brilliant touch of artistic direction and wonder were the smoke rising from the dark satanic mills in BRUNEL's industrial revolution, the forging of the OLYMPIC RINGS and their meteoric rise into the heady heights of THE OLYMPIC STADIUM to spark into life. Also the arrival of "JAMES BOND and our monarch" in a helicopter which hovered above the packed stadium, with the world watching the abseil of all abseils to introduce the opening ceremony.

The illuminated speedboat journey of the beautiful OLYMPIC TORCH BEARER with her hair flowing as the OLYMPIC flame flickered next to her in its glass funnel, driven by a smiling DAVID BECKHAM was sublime. After all, London grew by THE THAMES, so it only seemed appropriate to carry the flame to its final resting place by this slick method of transport. It's journey cast light on every famous landmark it passed: Westminster, Tower Bridge and beyond.

But as we know this was only half of the ultimate traditional surprises in store. Every OLYMPIC GAMES OPENING CEREMONY is about unveiling the secrets of " Who is going to light the cauldron, and how.

We all knew that SIR STEVE REDGRAVE would be in the mix as our then greatest Olympian ever. But what a stroke of genius to stage him receiving the flame from DAVID BECKHAM outside the stadium, to bring it in filed by the builders of the OLYMPIC STADIUM, and to pass it on, in the true spirit that won GB THE OLYMPIC BID in the first place...as a legacy to future British OLYMPIANS.

I have always been a fan of THOMAS HEATHERWICK's work, so I was very pleased to see that he had created the most iconic OLYMPIC STADIUM CAULDRON that I have ever seen. The flying Chinese Olympian running around the top of THE BIRD'S NEST, and ANTONIO REBOLLO the amazing archer lighting the BARCELONA OLYMPIC CAULDRON were amazing. By incorporating copper kettles carried in by a member of each OLYMPIC team to secretly create the structure was a magnificent touch. A more apt way of representing every participating country I cannot think of.

Finally, to cap it all off, DAVID BOWIE's "Heros" introduced TEAM GB in some ZEUS styled apparel of golden flashed white uniforms. Very camp, fun but also iconic at the same time.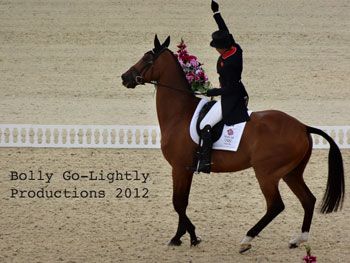 DAY ONE OF THE OLYMPICS - THE DRESSAGE
I was dreading travelling early across London the following morning to see the DRESSAGE in GREENWICH. I thought travel was going to be a logistical nightmare during THE GAMES. How wrong I was. The journey was better than usual. It was also more pleasant, with ever smiling and accommodating OLYMPIC GAMES MAKERS waving sponge hands to greet me and direct me to what was a fantastically impressive outdoor arena with an impressive CANARY WHARF skyline backdrop.

Everyone surrounding me seemed like an officianado of the discipline...I learnt as I went along. The respect for competitors was immense in the sun baked, high banked auditorium. I was impressed with the aerial cameras that zip-lined in seconds to provide breathtaking views of the proceedings.

The only downers were the insufficient number of free water points to fill up drinking bottles and that I sat opposite a completely empty stand, with the knowledge that these tickets could easily have been sold to members of the public. In a nutshell, everything that I encountered that day was a reflection of what was to come on a grand scale.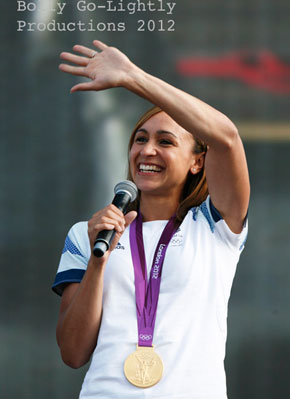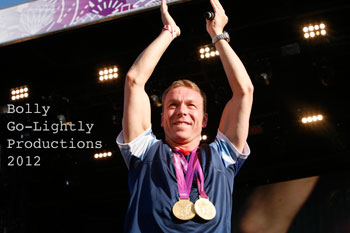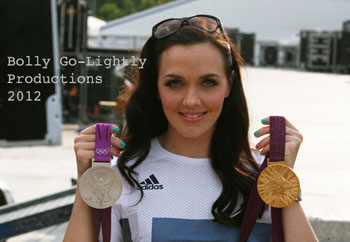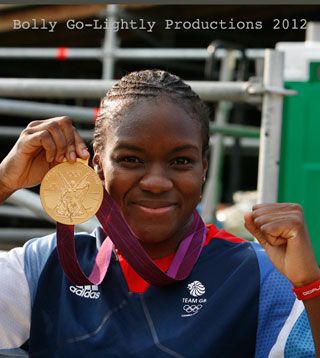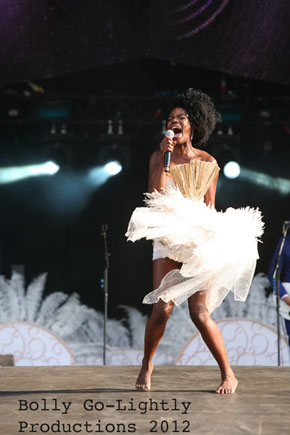 BT LONDON LIVE - HYDE PARK
When I originally applied for accreditation for this event, I was a bit disappointed to discover that I was unsuccessful to miss out on the opening ( with DURAN DURAN ) and closing shows and that I was left with some pretty random acts to cover during the OLYMPICS.

I have since been reminded not to take things at face value. Normally press releases "talk up" events. This one did the opposite. Although covering the ten days proved to be a very time consuming event from my perspective, it turned out to be the best thing to cover if you were not lucky enough to be accredited to officially cover The Games.

There were several reasons for this: the massive screen, the enthusiastic crowds, some great weather ( for a change ), and the daily arrival of TEAM GB MEDALLIST photocalls on the main stage. JESSICA ENNIS was the first big name who attended on the Sunday after Super Saturday. Wow, Super Saturday was the best experience if you did not have a stadium ticket. The main stage acts had to wait until the events of the night had been concluded. Watching JESSICA ENNIS, MO FARAH ( WHO i tipped in my last issue for OLYMPIC greatness ) and GREG RUTHERFORD all win gold on a super size screen from the pit with several thousand people cheering in the background was an amazing experience.

The night of the Men's 100m and Mo's second tenser race was also incredible. LISA SNOWDON joined us in the pit to watch the fastest man in the world deliver ahead of the Jamaican young pretender YOHAN BLAKE. Hard work, but far better than watching on TV as Billy No-Mates.

The role of OLYMPIAN attendances was impressive:
SIR CHRIS HOY
VICTORIA PENDLETON
REBECCA ADLINGTON
JESSICA ENNIS
TEAM GB EQUESTRIAN
TEAM GB MALE GYMNASTS
BRADLEY WIGGINS
ALISTAIR AND JONNY BROWNLEE
GREG RUTHERFORD
BETH TWEDDLE
LAURA ROBSON
NICOLA ADAMS
TEAM GB ROWERS
to name but a few.

Some were quite shy and formal in their main stage appearance, whilst others such as the rowers and PETER WILSON embraced the moment by leaping off the stage to meet the fans from the pit. They all felt and were treated like rock stars. To be honest they got better receptions than some of the headlining acts:

ALEXANDRA BURKE
LEMAR
NOISETTES ( who were fab )
REBECCA FERGUSON
NIK KERSHAW
OCEON COLOUR SCENE and so on.

Whether you are a royalist, a sports enthusiast or just British...the Diamond Jubilee ( which I described in the summer issue ) and the wondrous Olympic and Paralympic Games have shown the World that we can organise, participate, sportingly support and welcome everyone to our well conceived and co-ordinated celebrations. Three cheers to The GAMESMAKERS.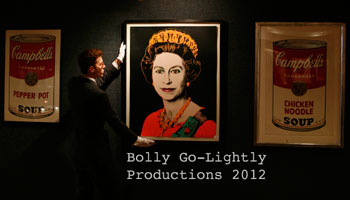 BONHAM'S PRINT SALE - NEW BOND STREET
Obviously not everything has been about The OLYMPICS, the DIAMOND JUBILEE continues throughout 2012. This auction contained some early DAMIEN HIRST lots and an amazing ANDY WARHOL image of THE QUEEN. I have seen a plethora of images of our monarch this year, and this was definitely one of the best.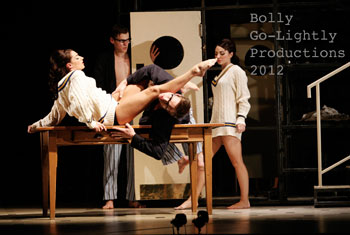 PLAY WITHOUT WORDS - SADLERS WELLS
MATTHEW BOURNE is a fantastic choreographer. I have seen many of his productions over the past 20 years, but this one has to be my favourite.

I have always been a great fan of film noire ( being a massive HITCHCOCK fan ) and this sexy, yet chic production of class division in 1960's London ( originally previewed in 2002 ) was fascinating. I loved the simultaneous dance scenes which made this a sumptuous seven course banquet on the eyes. The sets and costumes were fabulous, and the character portrayals were all strong. I could have seen this every night if money were no object just to try and see it all, as there is so much going on at the same time, you can't take it all in in one visit. Please bring back this meticulous production of style and psychology every year Matthew just for me.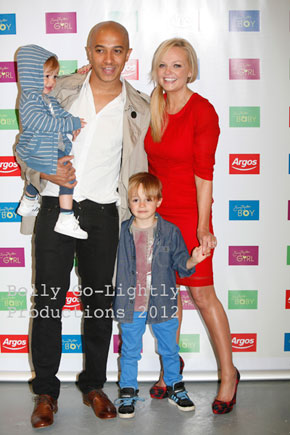 ARGOS CHILDREN'S CLOTHING LINE
THE SPICE GIRLS are back according to the OLYMPIC CLOSING CEREMONY and the forthcoming musical...but actually, did they ever go away?
EMMA BUNTON attended a very early shoot with her fiance JADE JONES and their cute sons BEAU and TATE to promote her new autumn/winter collection for the catalogue store. EMMA looked impeccable as always in a red dress with tartan high heels.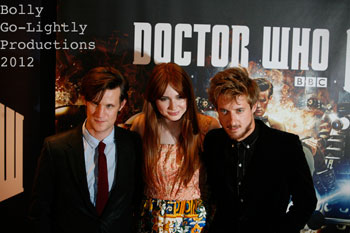 DOCTOR WHO. ASYLUM OF THE DALEKS PRESS LAUNCH - BFI SOUTHBANK
This press photocall was a cosy and quick affair of what has become a highly acclaimed television institution.

DOCTOR WHO has successfully become the consistently award winning family main stay since it was created in 1963. I am looking forward to the fiftieth anniversary next year...I am sure it is going to be amazing for Sci-Fi and non Sci-Fi fans alike.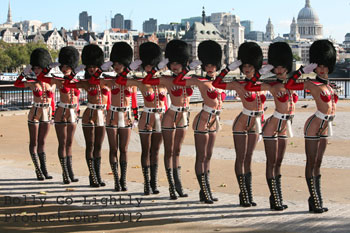 THE CRAZY HORSE GIRLS - SOUTHBANK
Burlesque has been "in" for a while now thanks to DITA VON TEESE.
Now HARVEY GOLDSMITH has become involved by producing and promoting "Forever Crazy". The famous Crazy Horse Parisian club has brought some of its dancers to the smoke to perform in a purpose built space behind THE NATIONAL THEATRE for the next three months.
We didn't really get to see anything from the show, so I can't comment on how good it is, but it's excellent reputation is worldwide.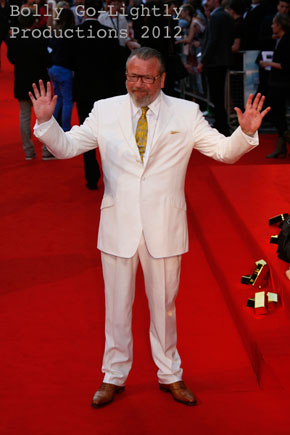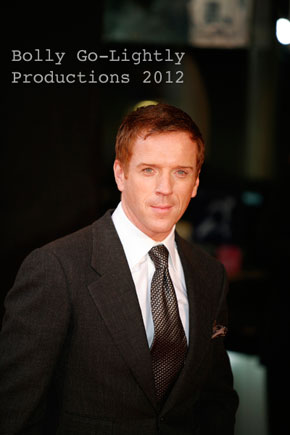 THE SWEENEY UK PREMIERE - EMPIRE, LEICESTER SQUARE
There have been many films launched since the last issue of HG. The most notable and most successful at the box office to-date was this cinematic remake of the 1970's hard hitting popular portrayal of The Flying Squad which starred JOHN THAW ( JACK REGAN ) and DENIS WATERMAN ( GEORGE CARTER ).

The film's cast continues to use the best of British with RAY WINSTONE, Emmy award winning actor DAMIAN LEWIS, BEN DREW ( PLAN B ) and HAYLEY ATWELL to name but a few. It has had mixed critical reviews, but I haven't seen it to give my opinion.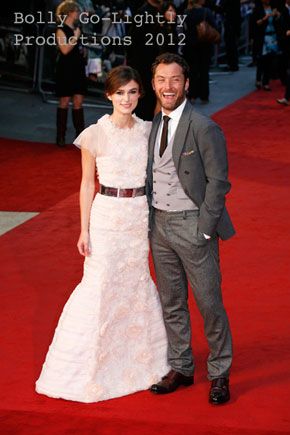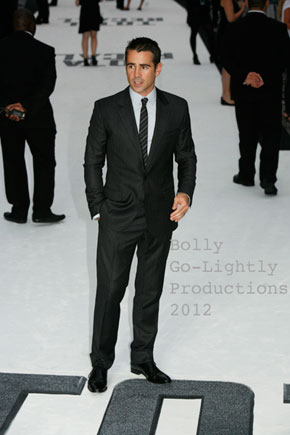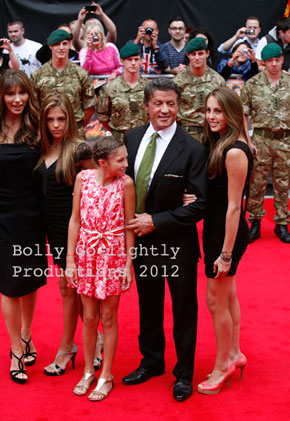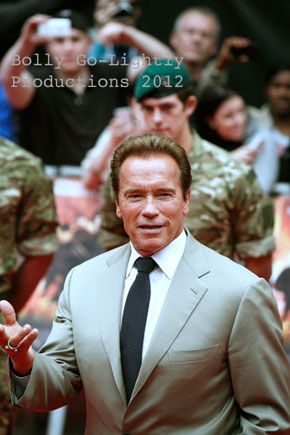 ANNA KARENINA, TOTAL RECALL and THE EXPENDABLES premieres - Leicester Square
These were the big budget films for the summer box office. Like all big film studio productions, the stars were rolled out to promote.

LEO TOLSTOY's classic tome Anna Karenina has been adapted by TOM STOPPARD and directed by JOE WRIGHT. The stellar cast includes KEIRA KNIGHTLY, JUDE LAW and AARON TAYLOR-JOHNSON. Set in the theatre this is a bold adaption of key elements from the novel. Purists may wish to stay away as it is not an accurate portrayal of the book with Levin's parallel story missing. The clips reminded me of BAZ LUHRMANN's Moulin Rouge, which I did love.

Another film remake hit the big screens with TOTAL RECALL. The Arnold Schwarzenegger original has become a cult classic. To update it is either a daring or professionally suicidal thing to do. The cast, again was massive with COLIN FARRELL, KATE BECKINSALE and JESSICA BIEL. I consider it was a risky project endemic of an increasingly risky practise to "play safe" in LA LA Land. Where have all the great script writers gone is the question that comes to mind?

THE EXPENDABLES were back in town. I am not a fan of this genre, but clearly I am in the minority. Don't get me wrong, I love action movies, but of a more cerebral trait. Muscle ripping, gun toting action is not my style, although in contradiction I do like the slick TRANSPORTER films which also star one of the cast of this sequel. It was the who's who of this genre with the attendance of SYLVESTER STALLONE, ARNOLD SCHWARZENEGGER, DOLPH LUNDGREN, JASON STATHAM and JEAN-CLAUDE VAN DAMME. Hasta la vista baby.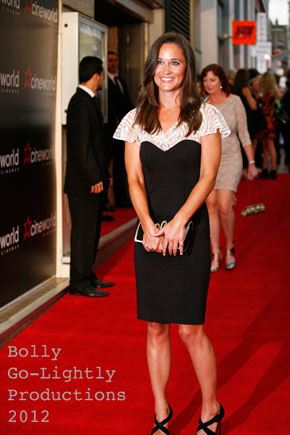 SHADOW DANCER - HAYMARKET
Smaller celluloid productions also hit the cinemas this summer with the story of COLETTE MCVEIGH ( played by ANDREA RISEBOROUGH ) and her manipulation by an MI5 agent ( played by CLIVE OWEN ). This IRA themed film looks like a tense must see. The premiere was attended by her royal hotness, PIPPA MIDDLETON, CLIVE OWEN and a posse of television newsreaders.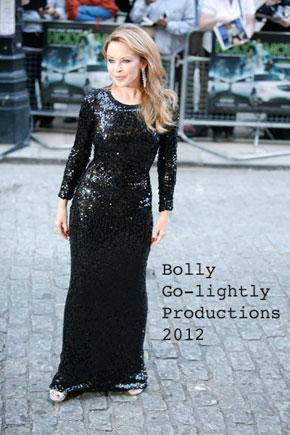 HOT MOTORS - CURZON MAYFAIR
One of the stars of the Cannes Film Festival, HOT MOTORS premiered at THE CURZON MAYFAIR. It stars our adopted pop princess, KYLIE MINOGUE and looks like a surreal journey for those purchasing a ticket to be entertained.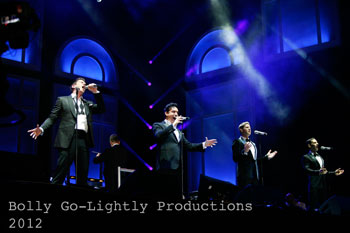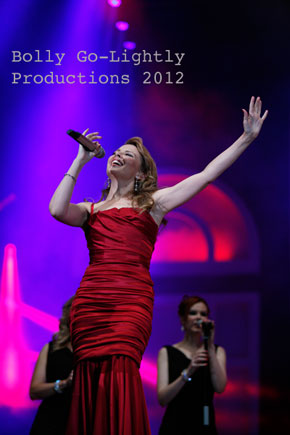 PROMS IN THE PARK
This huge classical musical event in our quintessentially British calendar came to a close simultaneously in THE ROYAL ALBERT HALL and HYDE PARK.
Good ol' TERRY WOGAN was the master of ceremonies for the biggest all day picnic attended by thousands of patriotically dressed musical fans enjoying another great summer day. Apart from ALFIE BOE, who makes both a great classical and rock singer, were SIMON COWELL's major signing, the classical heart throbs IL DIVO and headlining was the stunningly petite KYLIE MINOGUE.

After much pomp and circumstance sadly a brief firework display brought the curtain down for yet another year. Talking of final curtains, I am now drawing one over what has been a highly emotional and proud to be a Brit summer. So until the next issue, I am now leaving the house with both of our amazing TEAM GBs.
Have a good one and take care.